Current, accurate, maintained geographic information (GI) is becoming an increasingly important ingredient in driving innovation within government, business and communities.
Ordnance Survey is Great Britain?s national mapping agency, providing the most accurate and up-to-date digital geographic data, relied on by government, business and individuals.
Innovation is at the heart of Ordnance Survey?s activities, whether in developing and utilising leading edge technology in capturing data; developing and delivering new products and services; running a developer partner programme; supporting internal and external research; engaging in collaborative projects; contributing to the national location strategy; providing innovation platforms; supporting education; or in tackling our grand challenges of sustainability, climate change and transportation.
OS MasterMap Integrated Transport Network Layer contains road restriction information for the whole of Great Britain and is the basis for many of the satnav devices on the market
From its origins in 1791 Ordnance Survey is now a leading national mapping agency; a dynamic, selffinancing £100-million-a-year business, and since 1999 a government Trading Fund, covering its operating costs by selling its products and services or licensing others to use its copyright material.
Over the last few years we have seen significant, global, often disruptive, change in the technological and social environment within which we and other information providers operate. These changes will continue to have profound effects on both: the way GI is captured, managed, traded and used; and the role and function of national mapping agencies and GI businesses.
GI is now part of the mainstream information economy with global players (Google, Yahoo!, Microsoft and Nokia, and other device and service providers) providing common user interfaces to GI both at home and in the workplace. It is now exchanged under global World Wide Web Consortium-based (W3C) information standards and influenced by developments in wireless, mobile, positioning, sensing, location, imaging, storage and processing technologies. These developments enable GI to be expressed and visualised in 2, 3 and as 4 dimensions (the temporal dimension) as well as in virtual and augmented reality, and, increasingly, to be delivered as part of online services. Most profoundly, however, we have seen a change in the general information model: from a linear, publishing, ?push? model to an inter-networked, participatory model where users create, share and ?mash-up? data using application programming interfaces and open source.
Against this background of rapid technological developments the world today faces unprecedented global challenges: sustainable (one planet) living and working, climate change, transportation, ageing populations, competition for scarce resources, asymmetric warfare and the effects of globalisation. Tackling these ?grand? challenges requires unprecedented local to global collaboration, between governments, businesses, communities and ourselves as individuals. Whilst the technological developments have led to an explosion in the availability of data, captured and served by many, they have made the information management task in tackling such grand challenges more complex.
PROVIDING GI FRAMEWORKS
Collaborative idea generation at Terra future 2009
Providing GI frameworks as a critical means of ordering and managing information complexity, most of which resolves to location or place, is an essential requirement in enabling local to global collaboration across government, businesses and third-sector communities in addressing grand challenges. The recently published UK Location Strategy Place Matters: the Location Strategy for the United Kingdom begins to set out that geographic framework for the Nation. Endorsed by Ministers, phrases such as ?In almost everything, people need to know when and where things happen: place matters? are now commonplace. User-generated content can also be ordered within these frameworks, thus making best use of information collected.
Complementing and integral to these information frameworks are precise locations at ground level, pinpointed using Global Positioning Systems (GPS). Ordnance Survey?s national network of around 100 base stations constantly transmits their GPS-observed positions to a central processing hub. The network provides real-time positional accuracy down to centimetre level, replacing thousands of triangulation stations. This information is complemented by an intensive programme of ground survey and digital aerial photography, which can be viewed in 3-D. Over 5,000 changes are made to this seamless digital database daily, underpinning a new generation of detailed data called OS MasterMap. Data from OS MasterMap offers definitive, consistent and maintained referencing to more than 450 million man-made and natural landscape features in Britain ? from forests, roads and rivers down to individual houses, garden plots, and even pillar boxes. In addition to this topographic mapping, entire new layers of information are being added progressively to OS MasterMap, such as aerial photographic images which precisely match the mapping; data providing the addresses of all properties; and integrated transport information.
COLLABORATION WITH THE RESEARCH COMMUNITY
Solving challenging questions in the way GI is captured, managed, traded and used requires collaborative engagement with other research bodies, government and business organisations. Ordnance Survey maintains a vibrant research programme, ranging from improving data-capture processes to semantically linking information, and published as an annual Research Review. Students, staff and researchers at around 150 universities and furthereducation colleges have online access to OS MasterMap and a number of other products ? free at the point of use ? through the Digimap service (funded by the Joint Information Systems Committee and provided by the EDINA national data centre based in Edinburgh). This allows users to download information into appropriate software on to their desktops and supports a vast range of research studies from archaeology to geography and zoology.
WITH USER-LED INNOVATION
Governments globally are increasingly looking to the third sector as a channel of service delivery to their communities, helping communities to help themselves. High-quality service delivery requires accurate, current, trusted, and maintained GI as an ingredient. Ordnance Survey is involved in the TSB/DfT/EPSRCsupported user-generated Ideas in Transit Project, with Loughborough University (Ergonomic Research), University of the West of England (Centre for Transport and Society) and ITO World (innovative start up for network analysis). This is a five-year project that applies user innovation to the transport challenges faced by individuals and society. It is a unique collaboration between government, commercial and academic thought leaders and their networks. It will influence intelligent transport decisions at policy, social, personal and commercial levels.
WITH INDUSTRIAL PARTNERS
In the Sentience project Ordnance Survey worked with the established technical expertise of Jaguar Land Rover, Ricardo Engineering, Orange and Transport Research Laboratories to create a ?green vehicle? prototype. Using location technologies, the car elicits impressive emission reductions as the engine management system responds to what is coming over the horizon by speeding up or slowing down automatically, switching between drives and engaging and disengaging the air conditioning automatically. It is estimated that a fleet saving of 14% of CO2 emissions will be possible using the connecting power of geography.
The project is part funded by InnovITS ? itself funded by the Technology Strategy Board ? and is strongly supported by the Department for Transport. ?Sentience combines through collaborative working and innovation the expertise of advanced vehicle systems with that of intelligent transport systems to provide a major opportunity to achieve low-carbon road transport, less traffic congestion, lower fuel consumption and safer motoring. The creativity and innovation in Sentience is to be applauded and will, I am sure, produce in the future a vehicle fleet in the UK that we can be proud of.? Brian Collins, Chief Scientific Advisor to the DfT.
WITH MASS COLLABORATION: TERRA FUTURE 2009
Addressing grand challenges successfully requires engagement at all levels, from local to global. Achieving longterm solutions requires mass collaboration and co-operation among government, business, third sector and the community. Terra future 2009 is an ideas-generation initiative focused on tackling our grand challenges of sustainable living and working (one planet living), climate change and transportation through the connecting power of geography, information and mass collaboration.
Launched at a two-day conference ? 24?25 February 2009 ? at the Royal Geographical Society (with IBG), sponsored by the Technology Strategy Board and ESRI (UK) and keynoted by Charles Leadbeater (a NESTA Research Fellow) and Lord Puttnam of Queensgate CBE, Chair of the joint Houses Climate Change Bill and chair of FutureLab, 30 ideas were generated from government, business and community delegates. These ideas will be built upon collaboratively in subsequent Terra future idea-generation sessions starting on 24 April 2009 at Ordnance Survey.
OS OPENSPACE: A GEOGRAPHIC INNOVATION PLATFORM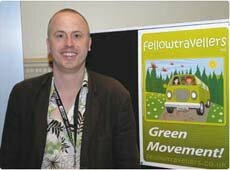 A user innovator at Terra future 2009
Providing geographic innovation platforms and support networks that encourage open and user-led innovation from communities of users in government, business and the third sector will enable all to realise business and social value from the connecting power of GI; and thus growing the market for GI and the quality of life for a globalised population. Ordnance Survey?s OS OpenSpace is an experiment in just such an innovation platform.
OS OpenSpace is a free service that allows users to build mash-ups of mapping, ranging from the whole of Great Britain down to street level. It is available to anyone who wants to develop experimental applications on the Web using Ordnance Survey information. Users can add markers, lines and polygons on top of Ordnance Survey mapping, search for place names with a gazetteer and display other location data from elsewhere on the Web. As well as the mash-up facility itself, OS OpenSpace includes a community forum so developers can discuss, review and collaborate on projects.
ADDRESSING EASE OF USE AND EASE OF ACCESS TO GI
Providing the right information at the right time in the right way to meet users? expectations in a given situation is a requirement of good information service design and one national mapping organisations are beginning to address.
The challenge for geographic information provision going forward is to provide the information frameworks, innovation platforms, ease of access and ease of use of accurate maintained GI required to address local to global challenges, for government, business and the individual, efficiently and effectively.
Liz Ratcliffe, Head of Product Marketing and Propositions
E-mail: