Print article
Environment
Winning the war against germs
A year since it first started trading, GB Environmental Ltd continues to draw upon its collective mechanical engineering experience to push the boundaries of UV disinfection technologies as far as they can go. GB Environmental continues to bring to market new ways of using an existing technology to kill some of the most fatal micro-organisms in today's society. From the protection against contagious diseases in medical establishments, the disinfection of food and drink in the manufacturing process, through to defence against bio-terrorism, it provides viable solutions for a diverse range of organisations.
Dr Ron Mitchell, Managing Director of GB Environmental, answers some pressing questions on how the company is leading the way in designing low-maintenance, cost-effective innovative disinfection technologies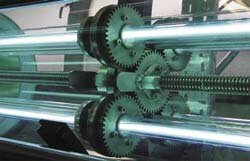 SafeGuard cleaning mechanism in operation
Can you describe how GB Environmental has overcome the shortfalls of UV disinfection technology?
It's no secret that scientists have known about the germicidal waveband of UV 'C', which kills a range of pathogenic micro-organisms by disrupting their DNA chain, for a number of years now. The premise that UV actually kills micro-organisms has never really been an issue. The main problem has been with ensuring longevity of functionality of various UV waterborne and airborne germicidal barrier technologies.
First-generation UV disinfection systems met with a mixed response with maintenance and efficiency issues limiting the widespread embracing of the technology. The main issues related to inconsistent disinfection performance and a lack of effective means to keep the lamps clean. The introduction of GB Environmental's second-generation equipment has been designed to eradicate such problems. Each has a unique integral cleaning system that provides continuous and efficient results. This maintains the UV lamps in optimum functionality, requiring minimal maintenance with only the annual need for replacement. With all GB Enviornmental's technologies designed to ensure that even in the event of one lamp failing, the remaining lamps still provide the minimum dose for adequate disinfection, UV really is a lowmaintenance alternative to chemical disinfection.

What are the key innovation processes within GB Environmental that have led to the discovery and development of UV as a viable form of disinfection?
Developing and designing UV disinfection technology is an area we hold a great deal of expertise in. Malcolm Snowball (Technical Director at GB Environmental Ltd) is in fact one of the three scientists who first discovered that certain wavelengths of UV light kills Cryptosporidium. When coupled with the design and manufacturing experience of everyone at GB Environmental, we have a very powerful knowledge base indeed. Since UV neither adds nor takes anything away from the air or water, GB Environmental provides the ideal solution.
This is where our ability to provide bespoke solutions, which are both practically viable and commercially sensible come into play. It's simply not a case of one size fits all – irrespective of the company, we ensure that we are providing them with the best possible form of UV disinfection that takes into account the type of micro-organisms in question, as well as the existing technologies they are using. In many cases, our ability to provide bespoke solutions based on solving individual problems has provided clients with a competitive advantage.

What technologies have you developed to deactivate or kill micro-organisms in air, water etc
Broadly speaking our two main product ranges can be divided into two categories (AirGuard and SafeGuard), since our technologies are used to disinfect either micro-organisms in the air, such as TB and airborne MRSA, or in the water, to maintain it free from cryptosporidium, and a whole range of other pathogens. Our SafeGuard range is available in a variety of sizes depending on the body of water to be disinfected. Fitted with a unique photo-catalytic oxidisation cleaning process, it is used to kill a whole range of waterborne pathogens.
It continues to be particularly wellreceived by those in the leisure industry, utility companies, local government as well as those working in manufacturing and process environments. Our AirGuard range of UV disinfectors kill all airborne microorganisms helping to prevent crosscontamination, offering protection for large sites through ducted air conditioning systems, or as a standalone unit. As with the SafeGuard, it can be used to help prevent the spread of infection across a plethora of industries. One particular issue GB Environmental is passionate about is helping to combat the spread of MRSA across hospitals in the UK, providing advice on how to tackle the airborne transmission of the disease.
We have also been the first company to develop Room Temperature Pasteurisation processes using nonthermal and non-chemical techniques, a revolution in the food and drink manufacturing process.

Regarding your patented cleaning innovation Tioxispring® and static mixer within your SafeGuard range, what advantages does this technology provide companies?

Static mixer
The unique Tioxispring® cleaning mechanism has distinct advantages over other UV disinfection systems, as it allows for the unit to be used in both dirty and hard water conditions, which have traditionally caused problems for UV technologies. GB Environmental's SafeGuard range of UV water disinfectors are all fitted with a patented planetary, fully automated, cleaning system incorporating revolutionary Tioxispring® cleaning technology. Its unique catalytic oxidation process uses cleaning heads that revolve around the lamps and react with fouling materials to keep the tubes spotlessly clean without the need to use additional chemicals.
The Tioixispring® cleaning mechanism contains 4 fluorocarbon segments, which are spring loaded around each quartz sleeve, forcing them to scrape the surface, whilst being driven both radially and axially. As each part of the quartz tube passes through the cleaning mechanism, the two Tioxisprings produce a unique catalytic process that cleanses the tube of any remaining fouling. Since the springs act as effective oxidisers, which do not leave behind any chemicals, any debris attaching itself to the surface of the quartz is broken down by the oxidation process. The geometry of GB Environmental's cleaning mechanism acts as a static mixer producing highly turbulent fl ow with a low-pressure drop, to prevent the possibility of suspended particles harbouring micro-organisms passing through the unit unaffected.
The combination of increased turbulence and low-pressure drop continuously draws the particles closer to the lamps in a controlled manner. This ensures particles are systematically rotated, allowing for the UV waves to come into contact with all the surface area of the material concerned, which further increases the kill rate. The combination of the Tioxispring and static mixer ensures that the SafeGuard range can be safely used in quite dirty waters where traditional machines would fail to give the desired level of protection at an early stage.

How is the AirGuard range available to organisations? Can UV air disinfectors be bought off the shelf or do they need to be custom made?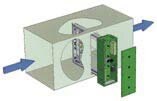 AirGuard being retrofitted
The AirGuard is available in a range of sizes to fit most ductwork systems, ranging from 600mm to 2000mm. It is possible for companies to purchase one 'off the shelf' so to speak, but at GB Environmental we take the time to assess with the company their needs and requirements before simply sending out a product. It is this level of service that helps set us apart from our competitors.

Are you seeking to develop your existing technology or will you be bringing out any new products over the next 12-18 months?
As innovators of UV technology we are always looking to take the technology one step further. There are already new product ranges in the pipeline to treat both air and water effluents, some of which are in the final stages of design and testing.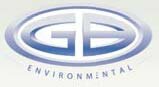 For more information call
Dr Ron Mitchell
on 01245 352277 or
visit www.gb-environmental.com