The Natural Resources Institute (NRI) at the University of Greenwich has extensive research and project delivery expertise in agriculture, fisheries and human health. Here are some examples of its work:
Cassava: adding value for Africa
The University of Greenwich and the NRI is working in close partnership with organisations in five African countries to boost the incomes of small-scale cassava farmers by linking them to new markets for high-quality cassava flour. The project, which is supported by the Bill and Melinda Gates Foundation, works with both public and private sectors and will benefit more than 90,000 smallholders within four years.
Rat management
In the Chittagong Hills of Bangladesh, the rat population explodes when a sudden increase in food is available as bamboo plants flower. Once the bamboo seeds are consumed, the rats swarm into the fields and houses of farmers, eating everything they can find. The UN Development Programme commissioned NRI?s expert in ecologically based and sustainable rodent management strategies, Dr Steven Belmain from the University of Greenwich, to research and find solutions to the problem.
University of Greenwich NRI?s main theme areas
Making agriculture work for the poor: NRI and its network of partner organisations throughout the world are working to develop better agricultural technologies and improved systems that will have a real impact in reducing poverty and malnutrition.
Food and trade: NRI plays a leading role in helping to develop post-production food management and food marketing systems to remove these constraints on agricultural growth and trade.
Change and vulnerability: NRI is working to understand, quantify and mitigate major challenges such as climate change, globalisation, conflict, emergent diseases and major migratory pests, which can all increase vulnerability and threaten the livelihood and health of the world?s poorest people.
Capacity building: NRI and its network of partner organisations in Africa are working to build local capacity in the agriculture and natural resources sectors through a range of interventions, including development and management of pan-African capacity building programmes.
NRI and the University of Greenwich works in partnership with research and development organisations, non-governmental organisations and the private sector worldwide. The majority of our work is undertaken through contract funding secured in open competition.
Major clients include, amongst others, the UK Department for International Development, the Bill and Melinda Gates Foundation, the European Commission, the World Bank, and FAO.
In such times of global change and development, the University of Greenwich and NRI are proud to be world leaders in our fields, contributing, with energy and passion, to alleviating poverty, encouraging growth and providing true sustainability.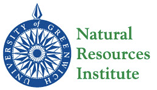 Natural Resources Institute, University of Greenwich
Medway Campus, Central Avenue,
Chatham Maritime, Kent ME4 4TB
Tel: +44 (0) 1634 880088
E-mail:
Website: www.nri.org