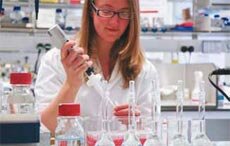 York University is collaborating with Botanical Extracts EPZ
There was a time when a talented and committed individual could create a world-changing innovation. Before the 19th century, going to sea was pretty hazardous. Sextant readings of sun and stars gave precise positions for latitude, but establishing longitude was much more problematic and led to captains returning to Britain regularly sailing up the Bristol channel rather than the English channel, with predictably unfortunate consequences.
In 1714, the Board of Longitude was created to fund solutions to this problem. The awful loss of life when four ships of Vice-Admiral Sir Cloudesley Shovell?s fleet had grounded off the Isles of Scilly in 1707 had been the impetus.
The Board became the drivers of innovation and gathered the greatest scientific minds of the day to work on the problem, including Sir Isaac Newton, and put up prizes for those who could demonstrate a working device or method, the greatest of which was £20,000 for a method that could determine longitude within 30 nautical miles. John Harrison, a self-educated English clockmaker, realised that an accurate clock that could maintain its accuracy at sea was the answer. His marine chronometer made long-distance sea travel safe, but not immediately after its invention, because its high price prevented its use becoming widespread until the next century. Incidentally, he was never awarded the full prize-money, but that?s another story.*
But even John Harrison did not start from scratch. His was an age of increasingly precise engineering with new casting methods and alloys for the engineer to work with. And there is a general lesson here. Innovations arise in a cultural ecosystem of materials, methods and skills and any single innovative step is reliant on what has come before. This story demonstrates the process of innovation. There was a problem. Society, the drivers of innovation, organised a method to fund its solutions. Innovators innovated and a solution was found.
Today, universities are accepted as being one of the prime sources and drivers of innovation and receive some of their funding from government, directly or indirectly, as a consequence. But how exactly do universities facilitate innovation? What are the structures and funding mechanisms for innovation within universities? And who decides what the problems are?
Frequently, it is the university researchers themselves who are the drivers of innovation and decide on the problem, and because they can apply for funding ? from Research Councils UK for example ? independently from their host institution, innovation can be led by the curiosity and drive of those researchers and not be held up by an institutional bottle-neck.
One example is the collaboration between the Centre for Novel Agricultural products at York University (UK) and the artemisinin producer, Botanical Extracts EPZ Ltd in Kenya. They are drivers of innovation and are working together to produce high-yielding varieties of Artemisia annua, a plant grown for the anti-malarial compound, artemesinin. Increased funding for malaria treatments means demand for artemisinin is expected to increase to around 200 million treatments by 2012. Meeting this increased demand will be a challenge because currently yields from A. annua are low, making production expensive.
York has gene-mapped A. annua and found gene sequences that are associated with traits such as the number of artemisinin-producing glands on the leaf. Using this information, it has bred high-yielding varieties that are now being field-tested by Botanical Extracts EPZ Ltd, which co-ordinates trials with some of the several thousand farmers in Kenya and beyond who are contracted to grow A. annua for them. Today, breeding programmes generally use molecular markers such as short DNA sequences associated with desirable traits to speed up the breeding process.
However, relying on the individual initiative of university staff to be the drivers of innovation is not sufficient to ensure that all innovations are funded and developed, so universities now have systems to facilitate innovation. At Cambridge University, Cambridge Enterprise was established on 1 December 2006 as a wholly owned subsidiary of the University of Cambridge. It is responsible for making the commercialisation arrangements for university discoveries. Cambridge Enterprise aims to take the most promising ideas forward through seed funding, IPR licensing, new venture creation and consultancy. It finds commercial partners, investors and managers, and negotiates fair and reasonable terms which reflect the contribution of the assets and expertise being transferred. It also looks after the deals once they are closed to encourage commercialisation and optimise returns.
Plastic logic timeline
1986-2000: Fundamental Engineering & Physical Sciences Research Council-funded research on the physics of semiconducting polymers for transistor applications in the laboratories of Professors Richard Friend and Henning Sirringhaus, Cavendish Laboratory, Department of Physics.
1998: Demonstration of organic transistor with performance comparable to that of thin film silicon.
2000: Demonstration of fully printed organic transistors.
January 2000: Company formed and first licence transferred from university to the company. The University Venture Fund invested in Cambridge Research and Innovation Limited (CRIL) which in turn provided seed funding for Plastic Logic.
April 2002: $18m funding round.
November 2005: $25m funding round.
December 2006: $115m funding round.
May 2007: Building begins on factory located in Dresden, Germany.
August 2008: Headquarters moved to Mountain View, California; R&D in Cambridge, UK.
September 2008: Product demonstrated at DEMOfall 08 in the United States and awarded the DEMOgod People?s Choice.
2009: Trials and pilots with key partners and customers completed in 2009 and commercial availability will be in 2010
This is a long-term process of anywhere between five and 15 years, as can be seen with the evolution of plastic logic. Plastic Logic (www.plasticlogic.com) has launched a revolutionary flexible readable display that can store thousands of pages of text and graphics. The product is the size of foolscap paper, is durable and yet it is thinner than a pad of paper, lighter than many business periodicals, and offers a high-quality reading experience. To address the market opportunity for flexible active-matrix displays, Plastic Logic has developed the first process for printing electronic circuits on plastic substrates. Not only is the process capable of making incredibly thin, light and robust displays, it is also considerably simpler than conventional amorphous silicon-based processes. This case study demonstrates a recurring problem that has exercised government for decades. Though the UK may be the drivers of innovation, the final stage of innovation, commercial production, will take place in another country, in this case Germany, rather than in the UK.
Lord Mandelson, the Secretary for State for Business, Innovation and Skills (BIS), has decided that Britain needs an additional framework to anchor innovation in the UK. At the moment, the Regional Development Boards work with their universities to co-ordinate some research programmes in centres of excellence, but Lord Mandelson believes the UK needs to develop its network of centres of excellence into an innovation system like the Fraunhofer network in Germany.
The German Fraunhofer network celebrated its 60th anniversary in 2009. Its 15,000 employees in 57 institutes generated revenues of E1.4bn last year. The institutes are drivers of innovation and are grouped by themes such as life science and microelectronics. From the Algorithms Scientific Computing Institute through to the Wind Energy and Energy System Technology institute, Germany has a full range of topics covered. The distribution of the institutes across the country also supports regional development. So Lord Mandelson has invited the technology entrepreneur Hermann Hauser to review UK technology centres and recommend how they should be developed in future, to see how Britain can emulate the results that the Fraunhofer network provides.
Back in the UK?s universities, an innovation culture has developed steadily over the last decade. At Imperial College in London, this culture starts with the student Innovation Society, which optimistically states:
?We believe that innovation is about transforming creative ideas into actions that, ideally, have positive impacts on the society. Our fellow students have generated innumerable ideas that could potentially change the live of mankind. But how many of them receive the right attention and get implemented? Do you have a creative idea but are frustrated that you don?t know how to start? Don?t worry, Innovation Society is here to help!?
This student hyperbole can be forgiven, but the students at Imperial are fortunate in being in a university that has all the key structures required for supporting and being drivers of innovation: administration, finance, manpower and networks that embed the university in a wider societal context. Since its foundation in 1907, Imperial?s contributions to society have included the discovery of penicillin, the development of holography and the foundations of fibre optics. This commitment to the application of research for the benefit of all continues today, with current focuses including interdisciplinary collaborations to improve health in the UK and globally, tackle climate change and develop clean and sustainable sources of energy. This can be well illustrated by Imperial College?s participation in the RCUK-funded innovative platform for low-carbon vehicles.
Researchers from Imperial College London and their European partners, including Volvo Car Corporation, are drivers of innovation by developing a prototype material that can store and discharge electrical energy, and which is also strong and lightweight enough to be used for car parts, so that one day the car?s bodywork can double up as its battery. Now Volvo is investigating the possibility of fitting this material into the wheel well in prototype cars for testing purposes. The team says replacing a metal wheel well with a composite one could enable Volvo to reduce the number of batteries needed to power the electric motor. It believes this could lead to a 15% reduction in the car?s overall weight, which should significantly improve the range of future electric cars.
To continue to receive funding from Research Councils UK universities, drivers of innovation, must now consider the impact of their research, as well as its excellence. In the RCUK document ?Framework for the Future?, Professor Alan Thorpe, chair of Research Councils UK, says their role is ?about excellence and impact, (where) impact is the demonstrable contribution research makes?. When challenged in a recent interview whether concern about impact meant a move away from fundamental research, Professor Thorpe replied: ?Absolutely not, we also support blue-skies research, inter-disciplinary research, facilities and infrastructure and fund the education of the next generation of scientists.? The impact of RCUK funding can be seen in that, according to Professor Thorpe, ?for every £1 invested in medical research, we receive back 40p/annum forever and have seen 130 spin-out companies formed.?
So what about the future? Mr Hauser thinks there is scope for a small number of new institutes in the UK that should receive £100m in funding over 10 years to support a team of at least 50 researchers, who would be given several years to work on specific industry problems and become drivers of innovation. ?The investment needs to be large enough so it will move the needle,? he said. ?Where can the government make a difference? We don?t want to invest in a company, but in a platform that would spawn lots of companies. You have to place your bets and stick with it for long enough to make a difference. The country that takes the gamble and makes the investment will win . . . or we will have a déjà vu experience again that Britain makes the R&D breakthroughs for Germany, Japan and the US to exploit.?
*?Longitude: The True Story of a Lone Genius Who Solved the Greatest Scientific Problem of His Time? by Dava Sobel?
Richard Scrase
Richard Scrase writes and broadcasts about science and technology. He is particularly interested in what prevents apparently good ideas becoming reality.