?When we talk about world-class science we need to look no further than the North West and the Cockcroft Institute?
Prime Minister, Tony Blair (2006)
The Cockcroft Institute is an international centre enabling ?Discovery? class science via research into innovative tools of accelerator and free electron laser science and technology. The Cockcroft Institute also addresses national and global needs in Energy, Environment, Health and Security.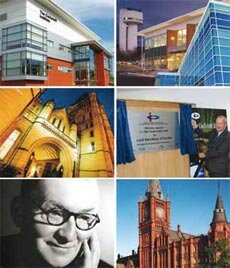 The Cockcroft Instituteis a newly-created international paradigm and exemplar ? a collaboration of the Universities of Lancaster, Liverpool and Manchester, the Science and Technology Facilities Council (STFC) and the North West Development Agency (NWDA) in UK. The Cockcroft Institute is located in a purpose-built building on the Daresbury Science and Innovation Campus adjacent to the Daresbury Laboratory and the Daresbury Innovation Centre, and has established satellite centres in each of the participating universities. The Cockcroft Institute is a major collaborator with the largest international physics laboratory in physics ? CERN in Geneva, Switzerland. The Cockcroft Institute also has established collaborations with internationally-ranked universities in the UK and abroad: Imperial College; Universities of Oxford, Cambridge, Durham, Glasgow, Strathclyde, and Queens; University of California at Berkeley; Harvard and Cornell Universities.
The Cockcroft Instituteprovides the intellectual focus and the essential scientific and technical infrastructure for research and development of accelerator and free electron laser science and technology. This will enable UK scientists and engineers to take a major role in innovating future tools for scientific discoveries and in the conception, design, construction and use of the world?s leading research accelerators for the foreseeable future. The Cockcroft Institute cultures the curiosity of the emerging minds via education, training and outreach, generates new scientific and technological knowledge and engages with industry to boost economy based on such knowledge.
Named after the late Sir John Cockcroft FRS ? who shared the Nobel Prize in Physics for ?splitting the atom? in 1932 and who is regarded as a pioneer in the field, helping establish major national and international laboratories such as the Rutherford Appleton Laboratory and CERN ? The Cockcroft Institute was opened by the then UK Minister of Science, Lord Sainsbury, in September 2006.
What The Cockcroft Institute does
Accelerators, Colliders and Free Electron Lasers for:
Particle and Nuclear Physics
Photon and Neutron Sciences
Atomic Physics of Anti-matter
Particle Beam Cancer Therapy
Laser and Microwave Medical Therapy
Compact X-ray Scanning for Security
Solar Energy
Subcritical Reactors
Nuclear technology and Energy
Transmutation of radioactive waste
Cleaner Environment
Daresbury Science and Innovation Campus
Keckwick Lane, Daresbury,
Warrington, Cheshire, WA4 4AD
Director: Prof. Swapan Chattopadhyay
E-mail:
Website: www.cockcroft.ac.uk