The Digital Communications Knowledge Transfer Network (DCKTN) was established by an industry-led group of key players in the sector. It is funded by the Technology Strategy Board, to bring a competitive advantage to the UK. It facilitates knowledge exchange within the digital communications segment and adjacent sectors, acting as a catalyst to accelerating innovation. This article looks at the evolution of value chains in the communications sector and uses an example of new value chains recently demonstrated by DCKTN member companies.
The Evolution of value chains
Historically, communications supply chains were easy to understand. Operators were at the top, with original equipment manufacturers (OEMs) providing integrated solutions and component suppliers feeding the OEMs. Supply chains have changed dramatically to value chains over the last few years, with the development of digital technology and the explosion of media services. The new eco-system is much more fragmented and the overall structure is more horizontal, with all suppliers operating in various parts of the value chains.
In communications, new services that drive the requirements for new solutions continue to change at a rapid pace. While large verticals continue to provide the infrastructure to deliver the services, the services themselves now come from multiple sources and are delivered to multiple connected consumer platforms. It is no longer viable to develop consumer services, content, infrastructure and consumer electronics platforms in isolation.
Leveraging the value chains using UK Technology
The UK benefits from having all of the elements of the new value chains, from world-leading content providers, through to infrastructure and platform development, with vital components feeding multiple levels. At the very top of the value chains, we have some of the most advanced digital consumers in the world rapidly adopting new services and willing to pay for high-quality content. A good example of value chains has recently been demonstrated on the UK Trade and Investment booths at the 2010 Consumer Electronics Show (CES) in Las Vegas and at Mobile World Congress (MWC) in Barcelona.
The DCKTN worked closely with some of its members and UK Trade and Investment to demonstrate the new value chains concepts. BBC Research and Development, Ubiquisys, a leading Femtocell provider, and Samsung Electronics (UK) Ltd demonstrated professional-quality media and content being streamed over a 3G Femto hub (small home base station), which in turn streamed to multiple Samsung Smart phones. The demonstration showed potential new services, whilst effectively improving existing services and mobile coverage in the home.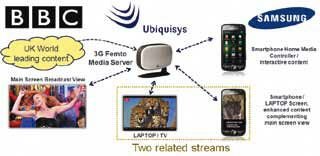 The evolution of content delivery to multiple screen sizes and equipment has enabled potential new converged services to be provided to the consumer, with content specially adapted for each platform and the possibility to synchronise the different streams. Bringing organisations together to feed value chains, which have traditionally worked independently, is critical for the UK to realise these new concepts and services. In this case, the demonstration emulated a Mobile Operator Network connected to a FemtoCell.
The system uses standard 3G spectrum providing the encryption, bandwidth efficiency, air interface control for a content provider to ensure security, quality of service and radio interference minimised by a managed network. The managed services and licensed spectrum usage is critical for these applications and the FemtoCell software actively manages the use of licensed spectrum, and is the intelligent hub connecting phones to home networks, cellular networks and the internet.
Deployment of new services using this technology will rely on collaboration between content providers and operators and possible new innovation at the vital component level to feed the value chains. The benefits of demonstrating this concept showed the strength of the UK eco-system, the advantages of being part of this eco-system and also the innovation which is taking place in the UK.
Leveraging the value chains and Stimulating innovation at the component level
The UK benefits from a strong base of companies providing ?vital components? to the wireless consumer industry. The demonstration above is a great example of the value chains from a content, network and hardware perspective through to the vital components contained in these platforms. At the Femto level, we have companies such as Lime Microsystems and picoChip, which can provide all of the components for the baseband, network interface and RF technologies required for a single platform to operate in any country in the world. Similarly with smart phones, UK technology leads the way in developing solutions for global usage.
Companies such as ARM, CSR, Wolfson Microelectronics and Dialog Semiconductor all develop technology that covers all aspects of smart phone platforms, from audio and display processing, power management, and baseband through to the antenna.
Potential new applications for femto-enabled home and Smartphone platforms
The companies involved in the CES and MWC technology demonstrations are continuing to collaborate to explore future research to investigate potential new services combining broadband, broadcast, cellular and home media platforms. Professional wireless, broadcast and broadband services require global economies of scale to be successful.
Such economies require standards and specific semiconductor hardware and software to enable performance, integration, size and power consumption. It is highly likely that new challenges will be discovered which will provide future research opportunities in this area. An example of this could be the synchronisation of multiple streams over different delivery mechanisms, such as Cellular and Broadcast, where precision time stamping and a locking mechanism will be required.
Areas for future research and/or commercial potential for new services:
User profiling and behaviour patterns
Pushing content to specific users
Smart network usage ? push content during low network utilisation times
Smartphone home media controller
Synchronised streams across multiple screens
Statistical/Historical data/Interaction
Replay facility
Complementary audio
Different camera view ? synchronised with main screen
Haptic technology
Interactive usage, local users on home network or wider area virtual community
?Cache and Carry? for consumption of media offline when on the move
User/Location-specific applications, environment aware/ adaption.
DCKTN Encouraging collaboration
The DCKTN working with UK Trade and Investment specifically selected the MWC and CES technology demonstration as a good example to showcase the entire value chains from UK consumers through to the UK vital components; collaboration is often the key to gaining a competitive edge and stimulating innovation. The DCKTN focuses on fixed and mobile communications, IT networks and broadcasting.
We span the entire value chains including universities, equipment manufacturers, solution providers, system integrators, network operators, service providers, application developers and broadcasters.
We operate as a Network-of-Networks, working through other networks, industry associations, support organisations and communities of interest.
We work closely with other sectors such as transport, education, health, energy and the environment ? for which communications is a transformational technology.
Membership is free ? visit us at www.dcktn.org.uk and join.
For more information, contact:
DCKTN
Russell Square House
10?12 Russell Square
London WC1B 5EE
Tel: +44 (0) 207 3312056
E-mail:
Website: www.dcktn.org.uk
Please note:
The content, opinions and views expressed within this article do not necessarily reflect those of the individual members of the DCKTN or the organisations that the members represent. The future concepts do not represent a commitment to provide a service or product and are shown to explore potential ideas for future research.