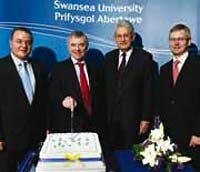 Pictured left to right at the opening celebration on 1 July 2009, Tim McCaffrey (Project Manager), Ieuan Wyn Jones (Deputy First Minister), Professor Richard Davies (Vice Chancellor Swansea University), and Professor Andrew Henley (Head of the School of Business and Economics)
The programme is the 100th to be funded by the EU in the Convergence region of West Wales and the Valleys and will be delivered through Swansea University?s School of Business and Economics. Aimed at improving skills through a range of training and networking opportunities, as well as motivation and confidence-building techniques, the programme will boost the management and leadership skills of SME businesses backed with £5 million from the European Social Fund (ESF) through the Welsh Assembly Government.
This innovative programme, already successfully delivered by Lancaster University, concentrates on two areas of small businesses: the business itself, and the personal development of the owner-manager; providing a framework to increase profitability, enable diversification and support business growth. The programme ? designed to meet the specific needs of owner-managers ? integrates active teaching with action learning, encouraging participants to share knowledge and experience with their peers and to apply what they learn to their own business situation.
In sharp contrast to the other typical and traditional business support programmes, LEAD Wales is designed to meet the specific needs of owner-managers of small or medium-sized businesses or social enterprises which have traded for at least three years and which employ a number of staff. Each 10-month work programme comprises a cohort of up to 25 owner-managers, and throughout the programme, each participant is supported by a mix of expertise from academics, experienced mentors and external coaching professionals. Participants are not required to have previous formal qualifications and are supported, on an ongoing basis, by members of their cohort totalling up to six individuals.
Astonishingly impressive results have already been achieved by Lancaster University Management School who have worked in conjunction with North West Regional Development Agency in piloting this programme. So far in excess of 150 businesses have already seen an increase in their sales turnover, employment, productivity and profits.
LEAD will help owner-managers focus on what they can do with their businesses, and how they can evolve and stabilise those businesses with what they learn through the programme.
?I had a choice to do the LEAD Programme or have a heart attack ? now, I feel much happier, more focused, much more confident and I?m quite happy to tackle anything anybody throws at me.?
Lesley Swinn, Director, Buy the House (Lancaster University LEAD participant)
The LEAD Wales Programme will be delivered free of charge to all eligible owner-managers. Eligible participants, selected on the basis of the size (standard SME classification) and location (within the Convergence region of West Wales and the Valleys) of the business, will be invited to complete an application form and attend an informal interview before being offered a place on the programme. Owner-managers are required to commit two days a month to attend workshops on campus over a 10-month period (50-60 hours in total). A significant element of the programme is the supported implementation of learning into the development of the participants? own businesses, and the first cohort, a diverse mix of up to 25 participants, will join the programme during the next academic year (2009/10).
To register your interest in LEAD Wales, please
contact the LEAD Wales Programme Manager,
Tim McCaffrey, on telephone 01792 513707 or
e-mail: