It?s easy to walk through Wolverhampton Science Park?s bustling buildings and imagine that the recession is a myth.
Occupancy levels across the 110,000 sq ft of lettable space at its prominent site just north of Wolverhampton city centre are running at a very healthy 90%, and not a single tenant has gone under during the last 18 months of economic downturn.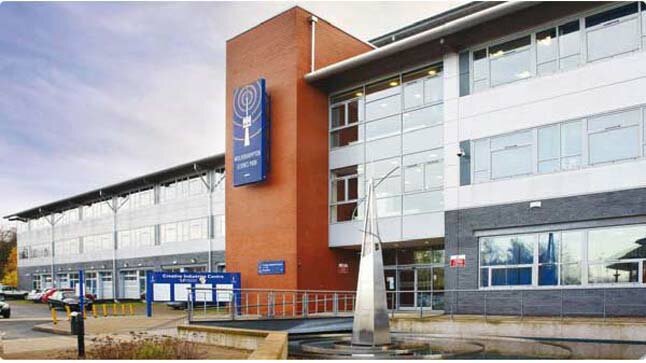 Wolverhampton Science Park Creative Industries Centre
Impressive statistics in isolation, but particularly noteworthy given the intense focus on start-up ventures in the park?s Creative Industries Centre. WSP?s executive director, Dr Martin Bucknell, says the park is now home to around 90 commercial companies and more than 20 new-start ventures currently residing in the park?s incubation facilities, plus several organisations from the charitable and ?not-for-profit? sectors. ?You need to have a blend of public and private sector tenants, and to ensure that your start-ups aren?t trading in just one or two niche areas, and I?m delighted to say that we are achieving both,? he says.
?We focus very heavily on knowledge-based sectors, so companies specialising in bespoke software, health, environmental consultancy, digital design and IT are well represented here.?
The park?s occupancy figure could be even higher if Martin ? and operations director Andrew Gilson ? didn?t insist that every would-be tenant has a business plan, finance and a credible strategy before they sign their lease. ?We could have 100% occupancy, which would make a great headline, but would make no commercial sense, as people who hadn?t been properly vetted wouldn?t survive,? says Martin.
?Our strategy has always been to look for start-ups with the potential to become SMEs in the medium term, and hopefully, sizeable employers in the long term. ?It has become received wisdom that start-up ventures, especially in the creative sector, are especially vulnerable during fraught economic times, but not one of our tenants has yet succumbed to the recession.?
A section of SP/ARK?s Incubation Area
Now, with the park?s first three phases almost full, the management team is developing the next tranche of space. Whilst developments across the country are going on hold, for lack of finance or a shortage of self-belief, Wolverhampton expects to have its next 30,000 sq ft on stream by the autumn of 2010.
The project has now completed its design stages and a full planning application is in process. One of the principal aims of the building design will be to provide extra grow-on accommodation for businesses emerging from the early stage incubator facilities in SP/ARK and elsewhere. This stage will add another 30,000 square feet of accommodation with incubation support services covering new-start companies working in technology, science and knowledge-based sectors as well as creative.
Creative Industries Centre ? main reception
Phase 4 will be adjacent to the existing Creative Industries Centre and be integrated with this via a bridge link. Such linkage is seen as vitally important in furthering the ability of tenant companies to meet with each other and develop commercial collaborations ? a point for which the Science Park is well recognised.
Standards of construction and operation are designed to achieve the latest environmental standards. ?It will all be ?BREEAM excellent? space, to the latest environmental standards, with such features as air-source heat pumps, a high element of sustainable materials, low consumption of energy and water, and of course, sustainable post-completion operating procedures,? says Andrew.
It might appear an act of bravery to proceed with a multimillion pound expansion in the teeth of recession, but he?s confident in the strength of WSP?s business model. ?We believe that keeping our focus concentrated on innovation, business support and development is the best possible response,? says Andrew.
More information about potential business accommodation
at Wolverhampton Science Park, its tenant
companies and their activities, together with contact
details and travel directions can be found at: www.wolverhamptonsp.co.uk