Yorkshire & Humber has a long history of technological creativity, and many of the innovations created in our Region ? like Percy Shaw?s famous ?cats eye? ? have changed the world.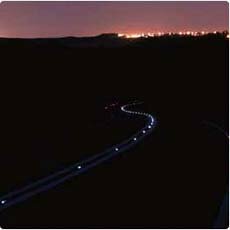 Today, Yorkshire & Humber leads the way as a champion of innovation in the key industry sectors that will dominate the 21st century: environmental technologies, digital technology and new media, advanced engineering and materials, food, bioscience and healthcare.
Behind this industrial innovation lies world-class academic research. Yorkshire & Humber has one of Europe?s largest concentrations of universities, who together invest nearly £350 million in academic research which is 12% above the EU average.
This vast expertise is now accessible to international industry through the unique network of twelve Centres of Industrial Collaboration (CICs). These world-class centres translate knowledge and facilities into commercial benefits, and deliver innovation and real business solutions to match industry needs, timescales and budgets.
Yorkshire & Humber:
your highway to innovation Each CIC:
is led by an internationally recognised academic, supported by an advisory board of leading academics and industrialists.
has a full-time Commercial Manager, with hands-on experience of their industry sector, to remove the barriers to academic-industry collaboration.
provides an easy entry-point to the Region?s university resources, enabling the appropriate team of experts to be harnessed to solve your innovation problem.
sits at the centre of a large network of businesses in the Region, unlocking the expertise and resources of industrial supply chains through collaboration.
Read on to find out why you should be working with Yorkshire & Humber?s CICs to help you get onto the highway to innovation.
Yorkshire & Humber Centres of Industrial Collaboration ? winners of the 2008 European RegioStars Award for Innovation
Engineering Design CIC
Healthcare/medical
Materials
Aerospace/automotive
Security
Energy/environmental
The Engineering Design CIC is based at the University of Leeds, and helps businesses get products to market faster and more cost effectively, by helping them design novel products and processes. They provide expert knowledge, advice, analysis, applied research and support to help organisations transform their products and engineering design processes.
The CIC offers a wide range of design and engineering services including concept generation, Computer Aided Design, Finite Element Analysis, Computational Fluid Dynamics, Rapid Prototyping, low volume manufacture, affective engineering, product sourcing, design for manufacture, a range of test facilities, and training.
The CIC works through the whole spectrum of innovation from fundamental research through concept generation and specification, prototype and low-volume manufacture, testing and approvals. They have successfully developed projects from consumer products to specialist industrial plant, from security products to neonatal care.
Contact:
Colm Watling,
Business DevelopmentManager
3320 Century Way
Thorpe Park
Leeds, West Yorkshire LS15 8ZB
Tel: +44 (0)113 284 0219
Mobile: +44 (0)7817 704335
Email:
Website: www.engineeringdesigncentre.co.uk
Centre for Precision Technologies
Healthcare/medical
Materials
Chemicals
Aerospace/automotive
Electronics
Security
The Centre for Precision Technologies at Huddersfield University is based around a world-class temperature- and humidity-controlled laboratory with an anti-vibration system which contains state-of-the-art equipment capable of measuring at the nanometre scale. The research team has a world-leading reputation in the research and development of instrumentation and related software in this field, including the world?s first capability of on-line measurement of surface roughness. The laboratory carries out surface examination of components for clients in industries as diverse as biomedical, automotive, optics and power generation.
CPT also offers specialist knowledge in coordinate measurement, and in the measurement of machine tools, giving improved accuracy of the finished component and reduction in scrap levels. They have developed an independent system for improving the volumetric accuracy of machine tools which has given up to 90% reduction in the errors within the machine.
Contact:
Dr Philip Harrison, Commercial Manager
University of Huddersfield
Queensgate
Huddersfield, West Yorkshire HD1 3DH
Tel: +44 (0)1484 472975
Mobile: +44 (0)7887 580111
Email:
Website: www.precisioncic.com
Yorkshire & Humber is at the cutting edge of the UK?s clean technology sector, with nine universities researching hydrogen and fuel-cell development, catalysis and materials, and the only incubator in the UK focused on clean energy.
Polymer CIC
Healthcare/medical
Materials
Chemicals
Aerospace/automotive
Electronics
Telecommunications
The Polymer CIC is one of the UK?s largest centres for research into advanced polymer processing and raw materials. The CIC provides:
Short- and long-term bespoke R&D solutions
The opportunity for collaborative R&D projects
Design and analysis services
Consultancy in advanced materials processing
Computer modelling of processes and products
Materials and product characterisation
Access to a network of companies and academic groups
The CIC works with companies of all sizes, and to help smaller businesses has created the unique PolyLAB for short-term troubleshooting. The CIC also runs R&D project clubs, networks and joint activities, and brings unrivalled access to the industry supply chain. Amongst the novel polymer applications currently being developed at the CIC are:
Nano-fillers and solid-phase processing of polymers for improved material properties
Biopolymers for intelligent drug delivery or in creating artificial bone or skin
New techniques such as micro-moulding, turning polymers into complex, miniature engineering components
Contact:
Dr John McGrath, Commercial Manager
School of Engineering Design and Technology
University of Bradford
Bradford, West Yorkshire BD7 1DP
Tel: +44 (0)1274 23 3624
Email:
Website: www.polycic.com
MARS (Materials and Research Services) CIC
Aerospace/automotive
Consumer/FMCG
Energy/Environmental
MARS delivers analysis and consultancy services to any industry sector and company which has materials-based needs. Specialist services include computing, modelling and simulation; materials analysis and characterisation; engineering product support; materials development and design; and machine vision - the application of computer vision to industry and manufacturing.
The Centre?s current industrial research focuses on a wide range of product development areas, including low friction and temperature resistant physical vapour deposition coatings intended for new applications in the aerospace and automotive sectors. MARS also has a wide range of state-of the art instruments and techniques, such as Scanning Electron Microscopy (SEM), X-Ray Diffractometry (XRD) and X-Ray Fluorescence spectrometry (XRF).
Other investigation techniques offered include Atomic Force Microscopy and Scanning Tunneling Microscopy (AFM/STM), Scanning Kelvin Probe investigations, together with Mapping and Imaging X-Ray Photo-electron Spectroscopy (XPS) to generate surface visualisation of precision electronic components.
Contact:
Dr Nick Farmilo, Commercial Manager
Materials and Engineering Research Institute (MERI)
City Campus
Sheffield Hallam University
Sheffield, South Yorkshire S1 1WB
Tel: +44 (0)114 225 4078
Email:
Website: www.shu.ac.uk/research/meri/mars
Yorkshire & Humber is a world leader in advanced materials production, and offers internationally renowned expertise, advanced skills and world-class research facilities in high-precision, high-quality engineering, metals production and manufacturing, microand nanotechnologies. World-leading capabilities in advanced engineering, polymer science and technology, and materials can be found at York, Bradford, Leeds, Huddersfield and Sheffield universities.
BITECIC (Biomaterials and Tissue Engineering)
Healthcare/medical
Materials
BITECIC Ltd is a value-adding resource established to manage collaboration between business, academia and clinical practice to provide a wide range of expert services in support of healthcare research and development. As the first of the CICs to adopt full commercial status, it actively supports organisations aiming to take new concepts through to market in all areas of healthcare and medical device technology.
BITECIC Ltd represents a valuable expert resource in these sectors, ensuring commercial integrity in the important areas of confidentiality, intellectual property, quality and project management. Dedicated project management staff, with extensive commercial R&D experience and access to state-of-the-art facilities, actively support organisations aiming to develop their business and take new concepts through to market in areas such as Orthopaedic Technologies, Cardiac and Vascular Technologies, Urological Technologies, Wound Healing, Dental and Maxillofacial Technologies, Tissue Engineering and Regenerative Medicine, and Biomaterials.
Contact:
Dr Ana MacIntosh, Project Manager
BITECIC Ltd
4100 Park Approach
Thorpe Park
Leeds, West Yorkshire, LS15 8GB
Tel: +44 (0)113 3970 327
Email:
Website: www.bitecic.com
Yorkshire & Humber is one of Europe?s most important regions for healthcare technology, and is at the forefront of the latest advances, especially in pharmaceuticals and medical devices. The Region offers exceptional access to end users, clinical trials, product development, improvement and validation, has the UK?s largest concentration of orthopaedic companies and wound-care companies, and major strengths in assistive technologies, diagnostics, novel drug development and biotechnology, and cancer research.
Pharmaceutical Innovation CIC
Healthcare/medical
Materials
Chemicals
Based at the University of Bradford, the Pharmaceutical Innovation CIC delivers drug development solutions to the pharmaceutical, biotechnology and chemicals sectors, working along the innovation spectrum from drug discovery support through to prototype clinical and commercial formulation development.
Their contract research team combines state-of-the-art facilities and technologies, world-class expertise in pharmaceutics with many years experience in the commercial sector, including pharma, biotech and spinouts. The CIC?s services focus on three main areas:
Developing analytical methods and testing the performance of raw materials and pharmaceutical products
Designing new formulations and drug delivery systems across a range of dosage forms ? with particular expertise in dealing with poorly soluble drugs
Profiling the properties of drugs and excipients to enhance product performance
Contact:
Piers Lincoln, Commercial Manager
Institute of Pharmaceutical Innovation
University of Bradford
Bradford, West Yorkshire BD7 1DP
Tel: +44 (0)1274 236160
Mobile: +44 (0)7779 669462
Email:
Website: www.ipi.ac.uk
Wireless CIC
Materials
Electronics
Telecommunications
The Wireless Centre of Industrial Collaboration combines the world-leading expertise of researchers and academics from the Universities of Bradford and Leeds in the MSCRC (Mobile and Satellite Communications Research Centre) and the I3S (Institute for Integrated Information Systems). The united strengths of these prestigious institutions offer a cutting-edge range of services in the field of wireless communications.
From consultancy and research through to new product development, the Wireless CIC has hi-tech facilities and expertise to both troubleshoot and help your organisation achieve commercial success.
Ground-breaking specialist skills include:
Radio Frequency and Microwave Engineering
Pervasive Computing and Security
Communications and Signal Processing
Satellite Communication and Navigation
Multimedia and Applications
Wireless Sensors and Ad Hoc Networks
Wireless CIC research utilises state-of-the-art laboratories, including an anechoic chamber which plays a vital role in mobile, wireless and satellite communications research, enabling researchers to test sensors, antennas and other transmission devices in a controlled environment.
Contact:
Richard Ranson, Commercial Manager
Mobile and Satellite Communications Research Centre
The University of Bradford
Bradford, West Yorkshire BD7 1DP
Tel: +44 (0) 113 343 6919
Mobile: +44 (0)777 099 3973
Email:
Website: www.wirelesscic.com
Yorkshire & Humber is the fastest growing region in the UK after London in the digital and new media sector, with more than 13,000 businesses, a strong infrastructure, and 12% of the UK?s electronic games developers working here. The region has several business incubation centres supporting the sector, and particularly strong industry-academic links.
Digital Print CIC
Healthcare/medical
Materials
Electronics
Print/packaging
Security
Consumer/FMCG
The Digital Print CIC is a one-stop-shop for printing and related industries, with a proven, award-winning record of success in collaboration. It offers advice on all aspects of digital printing, from the identification of efficient digital printing systems, through colour management, packaging materials solutions to optimisation of print quality.
The CIC also assists companies in the manufacture of value-added products using digital technology, such as medical diagnostic test strips, and provides expertise in photography and colour aspects of digital television. The Centre has the most up-to-date print and ink droplet image analysis equipment, and addresses technical and development queries, including the digital front-ends to improve productivity and flexibility, as well as undertaking short- and long-term research projects, trouble-shooting, consultancy, training, and acting as technology translator for the printing sectors.
The CIC has specialist expertise in security printing, bank note degradation and recognition systems, brand protection, ?Justin- time printing? of variable data in FMCG manufacturing, colour management and control, printed electronic technologies to enhance product or packaging functionality, and new printing applications using pigment and dye chemistry, novel polymeric materials, and inks/coatings formulations.
Contact:
Trevor Lambourne, Operations Manager
Department of Colour Science
The University of Leeds, Woodhouse Lane,
Leeds, West Yorkshire LS2 9JT
Tel: +44 (0) 113 343 2792
Mobile: +44 (0)79087 16126
Email:
Website: www.digitalprintcic.com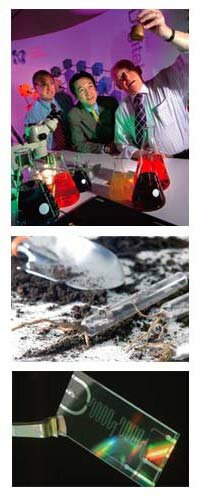 Food Chain
Food processing
Print/packaging
New Foods
The Food Chain has been actively involved in delivering the power of science to food and drink companies since 2004, providing scientific delivery as well as facilitating projects and innovation.
The Food Chain works directly with food and drink companies to help them solve problems and improve production and products through its R&D, technical testing and analysis and new food development services. The unique blend of expertise through the highest rated scientific departments of international excellence and the world-class facility for food research enables the food industry to meet new technical challenges, harness leading-edge science and seize new commercial opportunities in food production.
Key areas of operation are shelf-life, functional foods, nutraceuticals, product formulation, food modelling, opportunities with food waste, ultrasound and assisting the diversification into the food industry of technology providers from other sectors. We also organise topical groups, such as the New Foods Forum, which generate innovative new ideas in food and drink ingredients, products and processes.
Contact:
Dr Graham Clayton, Commercial Director
Food Chain, University of Leeds,
Leeds, West Yorkshire LS2 9JT
Tel: +44 (0)113 343 7593
Mobile: +44 (0)7908 216052
Email:
Website: www.FoodChainRD.co.uk
Environmental Technologies CIC
Energy
Electronics
Materials
Food processing
Chemicals
Manufacturing
The Environmental Technologies CIC is a one-stop shop solution to resolve complex environmental issues affecting businesses in a wide range of industry sectors. The CIC leads, facilitates and participates in collaborations between industry, academia and public bodies to deliver real, sustainable and quantifiable added value to all partners. The CIC delivers consultancy, research and development, and training across four main areas:
Environmental forensics, covering sensors (using the CIC?s own ?lab-on-a-chip? technology), chemical speciation and pathogen detection for rapid identification and elimination of health risks
Organics processing, with a range of services in reduction and recycling of waste, composting and other technologies to reduce costs and deliver major environmental and commercial benefits
Water dynamics, including wave and tidal power, hydro design and dispersion modelling, using the CIC?s Total Environment Simulator, an experimental facility for modelling the dynamics of fluid and sediment transfer
Support, consultancy and training in regulatory compliance
Contact:
Dr David Calvert, Commercial Manager
The University of Hull
Cottingham Road, Hull HU6 7RX
Tel: +44 (0)1482 466937
Mobile: +44 (0)7920 703510
Email:
Website: www.etcic.com
Yorkshire & Humber has more food and drink businesses than anywhere else in the UK, and some of the most advanced food-related scientific and technical resources anywhere in the world. The region leads Europe in pioneering market-focused innovation, spending more on food R&D than anywhere else in the UK, using science and technology to add value to products, to meet stringent quality specifications and to ensure that companies remain competitive.
ParticlesCIC
Pharmaceuticals/Biotechnology
Healthcare/Medical
Personal care
Nuclear
Advanced engineering/Materials
Food processing
The ParticlesCIC focuses on the needs of business in the area of particle technology, helping companies explore new and emerging technologies, develop new products and improve production processes. With access to £20m state-of-the-art equipment and a research base of over 120 staff, the CIC can provide cutting-edge contract services to all sectors including pharmaceuticals, biotech and cosmetics, mining and minerals, petrochemicals, food, materials, water and nuclear industries.
Core services of the ParticlesCIC include particulate and colloidal characterisation, consultancy, contract research, expert witness, and a wide range of courses and training. The CIC has the best equipped characterisation labs in Europe, from which it provides routine QA analysis services for a large number of UK and international companies. The basis of its contract research and consultancy is quality and flexibility, working with clients to develop technology solutions on a project by project basis or through longer-term agreements that meet the companies? technical and commercial needs.
Contact:
Dr Simon Lawson, Director
University of Leeds
Houldsworth Building
Clarendon Road
Leeds, West Yorkshire LS2 9JT
Tel: +44 (0)113 343 2375
Email:
Website: www.particlescic.com
Design Futures CIC
Food processing
Consumer goods
Packaging
Healthcare/Medical
Environmental
Design Futures is a commercially-focused and award-winning design consultancy that creates competitive advantage through exceptional design and development of new products and packaging. Drawing on diverse experiences across many sectors including FMCG, medical, food and drink, industrial and consumer, Design Futures has a strong reputation for effectively supporting new product development and innovation strategies for clients, from SMEs to large multi-nationals.
The CIC has a core team of product designers, structural packaging and graphic designers, packaging technologist and mechanical engineers. Design Futures has a network of specialist associates in food and drink, sports technology, healthcare, materials engineering, computing and communications that enable the CIC to build bespoke multidisciplinary design teams that understand customer needs, new technology, and translate these into innovative designs.
Design Futures utilises Illustrator, PhotoShop, InDesign, SolidWorks, and 3D StudioMax for design and has access to extensive analysis, testing and prototyping facilities including the UK?s latest ?old-age simulation suit?, 3D motion capture equipment, high speed colour video, hand/grip force and pressure measuring, finite element modelling, 3D Rapid Prototyping (3D printer, FDM), and fluid and solid interaction simulation capability.
Services include product and packaging design innovation and development, structural packaging research and testing, consumer/pack interaction, and design strategy. Projects range from initial concept to prototyping through production liaison as required.
Contact:
Gail Wyman, Commercial Director
Sheffield Hallam University, Furnival Building,
Room 9119, Sheffield, South Yorkshire S1 2NU
Tel: +44 (0)114 225 6767
Mobile: +44 (0)787 966 8031
Email:
Website: www.dfgroup.co.uk
Yorkshire & Humber?s CICs have worked on more than 1,500 collaborative projects with business, worth more than £38 million.