Where can you find more than 12,000 worldclass academic and commercial researchers and over 100 market-leading companies spanning disciplines from stem cell research and immunology to bioinformatics in one location? The destination is not Massachusetts or Stockholm but Edinburgh Science Triangle, a pioneering collaboration of universities, research institutes, science parks and government across Scotland?s historic capital that is rapidly establishing itself as one of the leading research and development locations in the world.
?As well as being widely known as a global destination city for its festivals, culture and heritage, and as Scotland?s capital and financial hub, Edinburgh and the surrounding Lothians area in the last 12 months has been declared the most enterprising area in Scotland and the best place to live in the whole of the UK,? explains Edinburgh Science Triangle project director Barry Shafe. ?Ironically, having so many attributes can cloud awareness that Edinburgh is also one of Europe?s top 10 locations for science and technology, with global recognition amongst the scientific community in life sciences, informatics, micro and opto-electronics and energy.
?Edinburgh Science Triangle was created through a pioneering public-private collaboration of councils, universities, research institutes, property developers and government and is now working with new and established businesses to help grow Scotland?s knowledge economy.?
Created in 2004 with support from Midlothian Council, West Lothian Council and the City of Edinburgh Council alongside Scottish Enterprise, the national economic development agency, Edinburgh Science Triangle is now one of the top 10 research and development locations in Europe, Europe?s leading centre for Informatics and a top five region in the world for life sciences research.
Its credentials underscore Scotland?s status as the UK?s second largest life sciences cluster, with over 590 organisations employing more than 30,000 people. In 2007, biotech industry monitor Fierce Biotech ranked Scotland as one of the world?s top five regions for biotech research, commenting: ?Scotland has wisely concentrated much of its efforts on building its biotech centre around its reputation for leading edge research into stem cells. The Roslin Institute in Edinburgh along with the University of Edinburgh and the Division of Pathway Medicine has contributed a considerable amount of scientific talent to the region.?
Scotland also has an extensive network of pharmaceutical activity, including companies such as GSK, AstraZeneca, DSM and Organon and is a major hub for Contract Research Organisations including BioReliance, Kendle, Aptuit, Quintiles and Charles River Laboratories. Blue-chips like these are attracted by the country?s internationally renowned research base and bioscience departments, with recognised capabilities in drug discovery and development, stem cells, bioinformatics and bioprocessing, genomics and medical technologies, as well as clinical and translational medicine. The wider Edinburgh city region accounts for roughly two-thirds of Scotland?s R&D spend and is home to world-leading academic institutions, including the University of Edinburgh, one of the world?s top 20 universities for biomedicine and the only university in Britain where hospital-based clinical studies received the maximum 5*A rating in the most recent UK-wide Research Assessment Exercise (RAE). The Edinburgh City Region also boasts one of the UK?s most productive and qualified workforces, with more than a third holding a degree level or professional qualification.
Edinburgh Science Triangle draws on all these strengths and in 2007 was named the most enterprising area in Scotland in the UK government?s Enterprising Britain 2007 awards. ?Edinburgh won due to the sheer scale and continuity of collaboration between stakeholders, and the potential impact on the economy,? Shafe explains. ?Scotland is a nation that can be quite modest about its achievements but this is a model that others throughout the UK and beyond are very impressed by. Edinburgh has a very successful track record in commercial collaborations between business and academic research and the city has become a preferred location for companies and research organisations looking to work together. Only 10% of companies in Europe which are engaged in any type of innovative activity typically work with universities. Academic-business collaboration averages 40% of companies which are based on science parks.?
Shafe compares Edinburgh Science Triangle to the Research Triangle in North Carolina, one of the best known and most successful R&D locations in North America, and says economic development and knowledge transfer collaboration is the key to success. Edinburgh Science Triangle is on track to create 15,000 jobs in the next 10 to 12 years and the partnership approach has so far added £42m gross value to the economy, according a recent review by Scottish Enterprise.
The Edinburgh Science Triangle ?super-campus? comprises seven parks plus other commercialisation facilities all located within 30 minutes drive of each other, as well as the universities and research institutes, Edinburgh?s inspiring city centre and the airport. Together, Edinburgh BioQuarter, BioCampus, Alba Innovation Centre, Roslin Biocentre, Edinburgh Technopole, Heriot-Watt Research Park and Pentlands Science Park cover a total of 217 hectares (500 acres) and offer 0.5 million m2 of built space. The Heriot-Watt campus was Europe?s first science park when it opened in 1971.
The Roslin Institute is renowned all around the world for outstanding life science research and especially for creating Dolly, the world?s first cloned mammal. Professor David Hume, the new Director of the Roslin Institute, recently launched the initiative to integrate the Institute with the University of Edinburgh?s Royal (Dick) School of Veterinary Studies. Together with the Animal Sciences researchers of the Scottish Agricultural College and the Moredun Research Institute, The Roslin Institute will form the Easter Bush Research Consortium (EBRC), one of the largest groups focused on the biology of companion and production animals in the world. It will undertake top-class basic and translational science to tackle some of the most pressing issues in animal genetics and genomics, development, health and welfare and, crucially for the pharmaceuticals industry, their implications for human health.
Professor Grahame Bulfield worked at the Roslin Institute for 22 years, 14 of them as a director, and raised the money to create Dolly. For the last six years he has been Vice Principal of the University of Edinburgh and head of its College of Science and Engineering and sees collaboration as the key to Edinburgh and Scotland?s growing international reputation. He says: ?Edinburgh has always had and continues to have a strong science base and is committed to three things. It is committed to putting all the different skills and interdisciplines together, it is committed to taking on long-term, difficult projects and it?s committed to translating that knowledge into commercial opportunities. It?s committed to all of these things and the science parks and incubators are just one of the mechanics to try and make that process go as efficiently as possible. The University of Edinburgh has spun out about 80 companies in the last five years, about half of them in life sciences, with roughly 80% surviving more than five years, so it?s really important to make it easier for academics to start up companies. Sometimes they?re postdoctoral academics or, in the case of Informatics, it could be an undergraduate with nothing more than a computer.?
Crucially, the collaboration between university departments and between academics and business that Edinburgh is renowned for helps both parties achieve breakthroughs and competitive advantages ? often of world-class status ? that neither would achieve on their own. It is this strongly collaborative approach that has allowed the capital and Scotland to lay claim to so many firsts and superlatives over the years, including the world?s first ?camera on a chip?, the world?s first Division of Pathway Medicine and the world?s first bionic arm.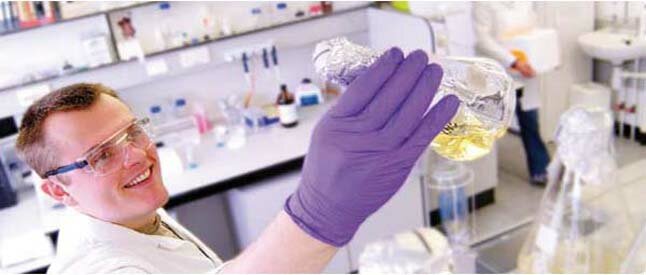 Bulfield lists several examples of interdisciplinary research at the university, including Systems Biology, where mathematicians, informaticians and molecular biologists are working together at a new £10m Centre for Systems Biology funded by the British Biotech and Biological Sciences Research Council. Another developing discipline is Bioinformatics, which incorporates computer science, biology and mathematics and attracts a competitive international research base to the Edinburgh Centre for Bioinformatics at the University of Edinburgh. In Infectious Diseases, the College of Science and Engineering is collaborating with the College of Medicine & Veterinary Medicine at the university?s Centre for Infectious Diseases ? one of the world?s largest single interest research groups investigating infectious diseases ? to find out more about Avian Flu, Malaria, E. coli and other infectious diseases that are common to both humans and animals. Regenerative Medicine involves another collaboration between the Science and Engineering and Medical colleges to build on the university?s international reputation in stem cell sciences.
A new £60m building to house 250 academic researchers at the university?s Scottish Centre for Regenerative Medicine and a fast-track ?Accelerator? incubator to hothouse new talent and technology will both be key features of Edinburgh BioQuarter, a landmark £600m life science real estate development which will establish Edinburgh and Scotland as one of the world?s top 10 centres for biomedical commercialisation. The result of a strategic alliance between Scottish Enterprise and Alexandria Real Estate Equities, one of the world?s leading life science cluster specialists, the 100-acre site is located alongside the new Royal Infirmary of Edinburgh and will provide 1.4m square feet of public healthcare, academic research and extensive commercial laboratory space in partnership with NHS Lothian and the University of Edinburgh to accelerate translational medicine and facilitate large scale life science collaborations.
?Edinburgh BioQuarter itself is the only location anywhere in the UK that combines the academic research with clinical development, a state-ofthe- art teaching hospital and a lot of commercial space, so in that one place you have everything needed to develop medicine for the 21st century,? explains Andrew Henderson, life sciences manager at Scottish Enterprise. ?This is a model that a lot of countries and regions are trying to establish.
The advantages for companies large and small is that it helps them reduce the cost of developing new medicines because they have access to a lot of publicly funded infrastructure. If they need intermittent use of an expensive piece of kit, University of Edinburgh has probably got it and the expertise in knowing how to make it work.? On-site at BioQuarter, there are currently over 70 companies engaged in collaborations with Edinburgh scientists, including 17 of the world?s top 20 global pharmaceutical companies. Other parts of the Edinburgh Science Triangle are engaged in research into reproductive biology, diabetes, cancer and cardiovascular medicine, while R&D activity at Heriot-Watt Research Park focuses on the university?s expertise in electronics, computing and the medical applications of physics.
At the School of Life Sciences at Napier University, a team led by Professor Vicki Stone is working on toxicology and immunology with reference to inhaled toxic particles. ?This is just one more part of the jigsaw which constitutes Edinburgh Science Triangle and the active collaboration between the parks and universities that leads to the exchange of ideas and expertise,? Shafe concludes. ?By working together, ultimately the aim of everyone involved is to increase scientific development ? and produce commercial benefits of real value to the scientific and business community internationally.?
VICTORIA MASTERSON
Victoria Masterson is a respected freelance business journalist and editorial consultant for publications including The Daily Mail, The Scotsman, CA Magazine and Scottish Business Insider. She was previously Scottish business editor of The Sunday Times, business editor of Scotland on Sunday, deputy news editor of Business a.m. and a business correspondent with The Scotsman, the Aberdeen Press & Journal and the Edinburgh Evening News. Her specialisms include technology, banking and finance, health and trading with China. Victoria has an MA Honours degree in English Literature from The University of Edinburgh.