Lying at the geographical centre of the British Isles, England?s North West region excels in a wide variety of sectors and is home to over 350,000 companies.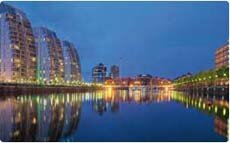 Salford Quays, Manchester
In biotechnology and pharmaceutical life sciences, in environmental technology and medical equipment, in computer software and services, in tourism, and in creative and e-commerce, the region?s companies and universities have led the way. And traditional industries have also evolved to maximise the opportunities of a changing world. Chemicals, textiles, aerospace, mechanical and civil engineering, automotive and aerospace, food and drink, and energy, including nuclear, still provide the economic bedrock.
BUSINESS
Our highly-skilled and productive workforce, our centres of academic excellence and our strength in innovation and R&D make the North West the perfect location for dynamic businesses. A costeffective base, the region also offers high levels of UK mainland financial assistance to support capital expenditure, staff recruitment and ongoing training needs.
Our universities represent one of the highest concentrations in Europe, with 170,000 students and 50,000 graduates every year. Our strategy of clustering businesses with academic centres of excellence ensures the perfect environment for R&D and an excellent supply chain. The region is already an international leader in scientific research and development and a premier location for biomanufacturing. The sector is further enhanced by the National Biomanufacturing with its focus on biotechnology business development. The life sciences sector is supported by the presence of leading international pharmaceutical companies, including AstraZeneca, Avencia, Aventis, Eli Lilly, Unilever and GlaxoSmithKline.
DIGITAL INDUSTRIES
Over 60,000 people are employed in digital industries in the North West, with leading technology companies including IBM, Hewlett- Packard, Brother, Sharp, ICL, Phillips, Photronics, Sony and Siemans. As the second-largest digital cluster in Europe, the region also has a proven track record as a winning location for leading software projects. The National Advanced Robotics Research Centre is based at Salford, the National Computing Centre is in Manchester and Merseyside is home to Liverpool Digital, an ICT centre of excellence and knowledge-based centre.
For more information, visit the
North West Regional Development Agency at: Website: www.nwda.co.uk